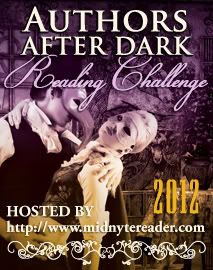 Hello Everyone,
I've decided to participate in The Authors After Dark Challenge as I'm attending the convention and I've decided to read the authors that will be going to the conference.
I haven't really decided which books yet to read for this challenge, but will probably pick the ones that I want as the year goes on. Midnyte Reader is the one hosting this challenge.
What I read for this challenge will be on the challenge page.
So I hope you guys enjoy a little bit more romance and UF on the blog.
Grace